Glycomics Program

Mærsk Tårnet, Bygning: 7.10.26

2200 København N
Primære forskningsområder
The Wandall group

overview
  Complex glycans participate in a wide variety of biological phenomena in both health and disease, such as cell differentiation, proliferation, migration, and morphogenesis. We investigate how glycans impinge on cells during development, inflammation, and cancer growth, and how to exploit this for early detection and treatment of disease. We explore and map glycogenes with new enzymatic technologies to turn genes on and off and identify new causes of disease. In addition, we seek to develop new methods to detect mutations in glycogenes and to investigate what changes these infer on the glycome and cellular processes using novel mass spec technologies. Insight into the glycome may lead to new diagnostic tools and better-targeted drugs and vaccines.
Aktuel forskning
Copenhagen as the next generation leader in precise genome engineering: The use of a novel genome editing technology has the power to redesign most living organisms with exquisite precision, speed and cost-effectiveness. We have created the Copenhagen Consortium for Designer Organisms as a leading knowledge center on precise genetic engineering using nuclease-based technologies.
Probing function of O-glycosylation by an organotypic skin model This project is dedicated to the discovery and molecular dissection of functions of protein glycosylation with a particular emphasis on O-linked protein glycosylation.
Production of APC Targeted Allergy Vaccines (APCGlyVac)
We hypothesize that recombinant allergy vaccines with defined carbohydrates will target APCs and enhance efficiency, induce tolerance at lower dosages, and possibly reduce side-effects. This proposal aims to explore the potential for enhancing efficiency of recombinant allergens vaccines against major allergens by targeting these to APCs through specific glycosylation patterns.
Highlights
Novel proteome-wide discovery strategy for O-glycosylation sites on viral envelope proteins using herpes simplex virus type 1 (HSV-1) as a model. We identified 74 O-linked glycosylation sites on 8 out of the 12 HSV-1 envelope proteins. With the use of precise gene editing, we further demonstrate that elongated O-glycans are essential for HSV-1 in human HaCaT keratinocytes.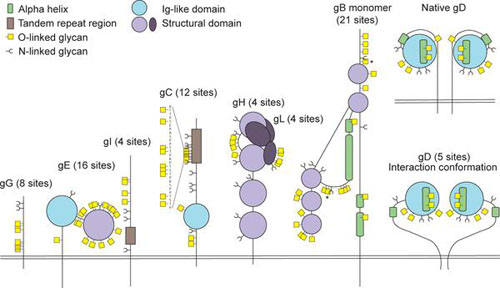 Bagdonaite I, Nordén R, Joshi HJ, Dabelsteen S, Nyström K, et al. (2015) A Strategy for O-Glycoproteomics of Enveloped  Viruses—the O-Glycoproteome of Herpes Simplex Virus Type 1. PLoS Pathog 11(4): e1004784.
Uncovering the function of cancer associated glycan changes using simplified cells and simplified tissues. We demonstrate, with the use of well-defined cell systems generated by precise gene editing, that the aberrant O-glycophenotype by itself induces oncogenic features with enhanced growth and invasion.
See comment in Proc Natl Acad Sci U S A. 2014 Sep 30;111(39):14009-10. Not so sweet malignant transformation. Baenziger JU.
Our work has been funded by the following agencies:
UCPH Excellence Programme (2016 ,Facul Funds), Danish Council for Science,
Danish Strategic Research Council,
Danish Medical Research Council,
The ,Facul Lundbeck Foundation,
Novo Nordisk Foundation,
Danish National Research Foundation
The Danish Council for Strategic Research, as represented by the Programme Commission on Strategic Growth Technologies
Collaborators
ALK-Abello A/S Cord Brakebusch, BRIC, Sally Dabelsteen, Department of Odontology of Health Sciences, University of Copenhagen. Morten Frödin, BRIC, Michael Hollingsworth, University of Nebraska, Omaha, NE Usha Menon & Aleksandra Gentry-Maharaj, Institute for Women's Health, University College London, UK. Sigvard Olofsson, University of Gothenburg Anders E. Pedersen, Department of International Health, Immunology and Microbiology, Faculty of Health Sciences, University of Copenhagen. Bent Larsen Petersen, Department of Plant- and Environmental science, Plant Glycobiology Søren Skov, Department of Veterinary Disease Biology, University of Copenhagen. Steffen Thiel, Department of Biomedicine, Aarhus Anders Woetmann and Niels Ødum, Department of International Health, Immunology and Microbiology, Faculty of Health Sciences, University of Copenhagen.
Mulige interessekonflikter
Consultant for and founder of GO-therapeutics focusing on development of antibodies for immunotherapy of cancer (http://gotherapeutics.com). 
Consultant for early stage biotech initiative for the development of antibodies to various non-glycosylated targets. 
Established Wandall ApS to control consultant activities. 
ID: 925408